ENJOY OUR ALL INCLUSIVE HOSPITALITY
Blue Reef Resort:
No thoughts, just vacation!
At the Blue Reef Resort, you need only come with the desire for a holiday.
With the "all-inclusive" formula, you can enjoy the Red Sea without worries.
Come and experience the most authentic relaxation, with the sky at your feet and the sea kissing your eyes.
The Red Sea is an enchanted place where you can enjoy the sea all year round and marvel at the unique experience of the coral reef. The Blue Reef Resort area is ideal for a dip in this magical setting. Snorkelling or diving, at Blue Reef Resort, there are no limits to fulfilling your wish for adventure.
Just one step away from comfort
The Blue Reef Resort is at the centre of the world. It rises in Marsa Shagra, a particularly suggestive place owing to its unspoiled nature.
It is easy to reach because it is close to an international airport.
It is perfect for a sun and sea holiday. The structure is located a few meters from a crystalline beach, and the coral reef is easily reached.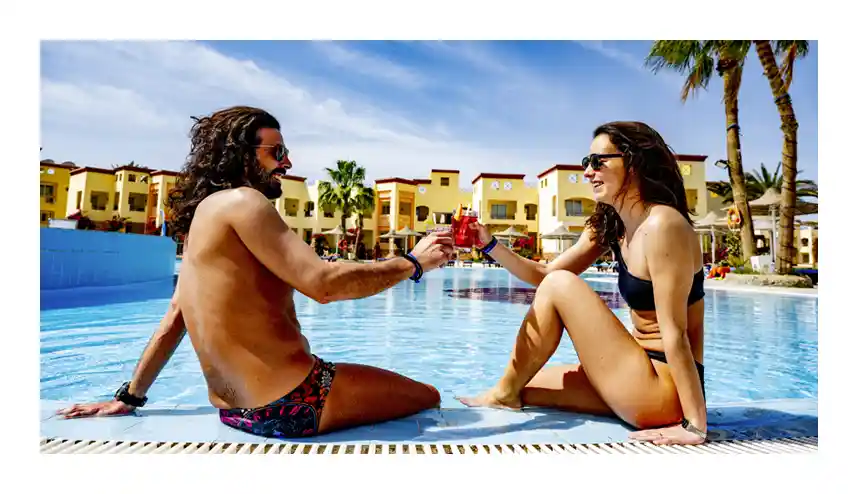 We stayed a week in this village and found it very good on all levels.
The entertainment team, very good and competent, involved us in fun activities every day. The excursions proposed were interesting, authentic experiences. In particular, the camel ride in the desert organized by Tito.
Beautiful, well maintained and clean facility.
A very pleasant stay; we couldn't have expected better.
Recommendations.

Excellent place for lazy vacation. Great restaurant, professional staff, great waiters. Seafood, fish was served everyday at the main restaurant. Great pizza from stone stove served at the beach bar. Good bottled local beer. The animation level is also high – yoga, pilates, belly dancing, playing team sport games at the beach. The resort is run by an Italian manager and he pays great attention to quality of food and service. The hotel is clean, most of the rooms face the beach. There is a looong bridge, about 350 m running to the edge of the reef which is outstanding! The life guard is always there watching people. Diving centre nearby, the representative available in the hotel everyday.
We would come again.